Home Office Improvements That Make Working From Home Easier In Cleveland
Nowadays, working from home has become the way it goes -- one with some unforeseen problems.
Whether you're a work-from-home connoisseur or need to carve out a homebound office area temporarily, the concept of using your actual house doesn't always have to mean sharing your living room couch. The answer to an efficient home office is identifying items that will make life better for day-to-day activity. And this area should also comforting since you have to eat, play, and sleep here also.
From space-saving desks to Polywood plantation shutters, here are five simple office improvements that allow you to work from home easier.
Your Home Office Should Be A Separate Space
While plopping down on the recliner and banging away on your laptop may look luxurious at first, not delineating "home" and "work" can feel detrimental to your productiveness.
If you don't already, create a workspace in your home. This room should be work-first, apart from day-to-day chores. This may help you keep away from distractions. You don't need an executive oak desk and a bookcase full of research materials, but at least try to dedicate a table and stool that's only for work.
Have a corner in your family room that would you can use as a work center? make a private space by adding an attractive, elegant sliding barn door or panel track as a partition.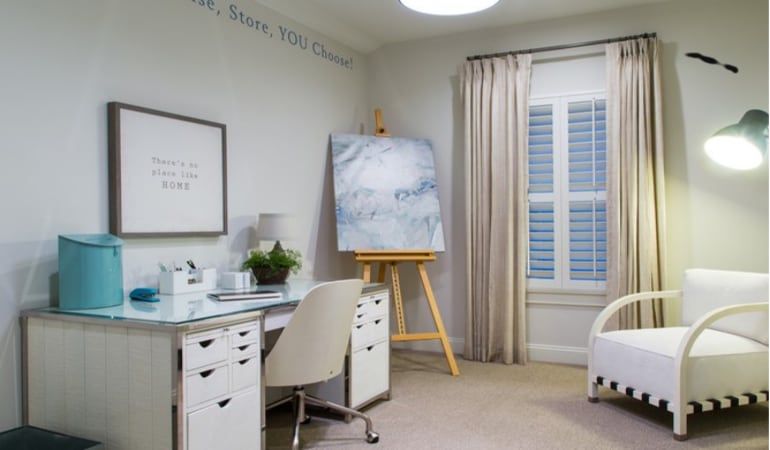 Use A Work Space That Fits With Your Things
As the majority of your workday is spent in a chair, you'll need a surface that uses good support while accommodating your your desired spatial needs. That means setting up the perfect work surface.
But, here's one pro tip: avoid a "that will do" desk set-up. A side table that disguises as your workspace from 9-5 will only become annoying. You should use a surface that conforms to your work needs. If you primarily use a laptop, a mini office desk or work-only table can work. But if you're juggling papers, or prefer a two-screen computer setup, you may need a bigger surface.
If you rather not get a standard desk, make one from alternative materials. An old door or stained board on top of storage cubbies can serve as a adequate work surface. When you finally get the perfect desk, the easier work from home becomes in Cleveland.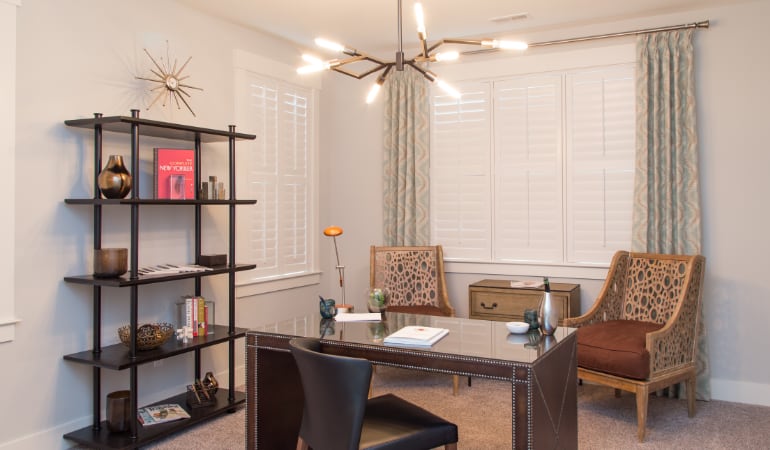 Direct Natural Light When You Use The Right Window Coverings
It's no surprise that adequate lighting can affect your next video conference. Not enough backlight and you're covered in shadow, but try to talk while dealing with sun glare, and you're quinting at the screen. The amount of sunlight can also can make you efficient or sleepy.
To make work at home easier, get a window covering that can direct natural light. Plantation shutters, as an example, have louvers that can be adjusted so that your workspace always has enough outside light without sun glare. They also help block outdoor noise, like passing cars or playing kids. And when your plantation shutters are crafted from faux wood, they can also keep your workspace comfortable.
Luckily, interior shutters are an aesthetically wonderful window treatment for your work space and are a snap to clean and operate.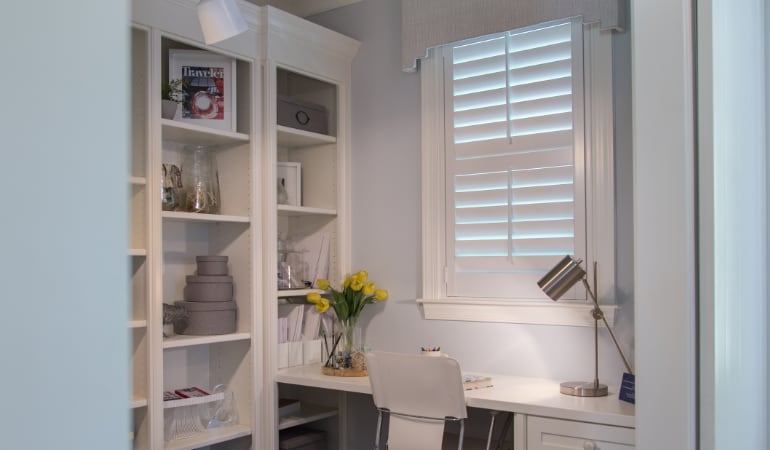 Change Out Your Seat From That Uncomfortable Chair
Once you have some time in your newer work from home space, you start to realize that using that wooden kitchen chair just isn't doing it.
Opt for an an actual office chair to help you become more comfortable, or enhance your seating with a little extra back support if you need to have it last until you decide on your next chair. Of course, you can opt for a standing desk, and that would circumvent your chair decision.
It's Alright To Experiment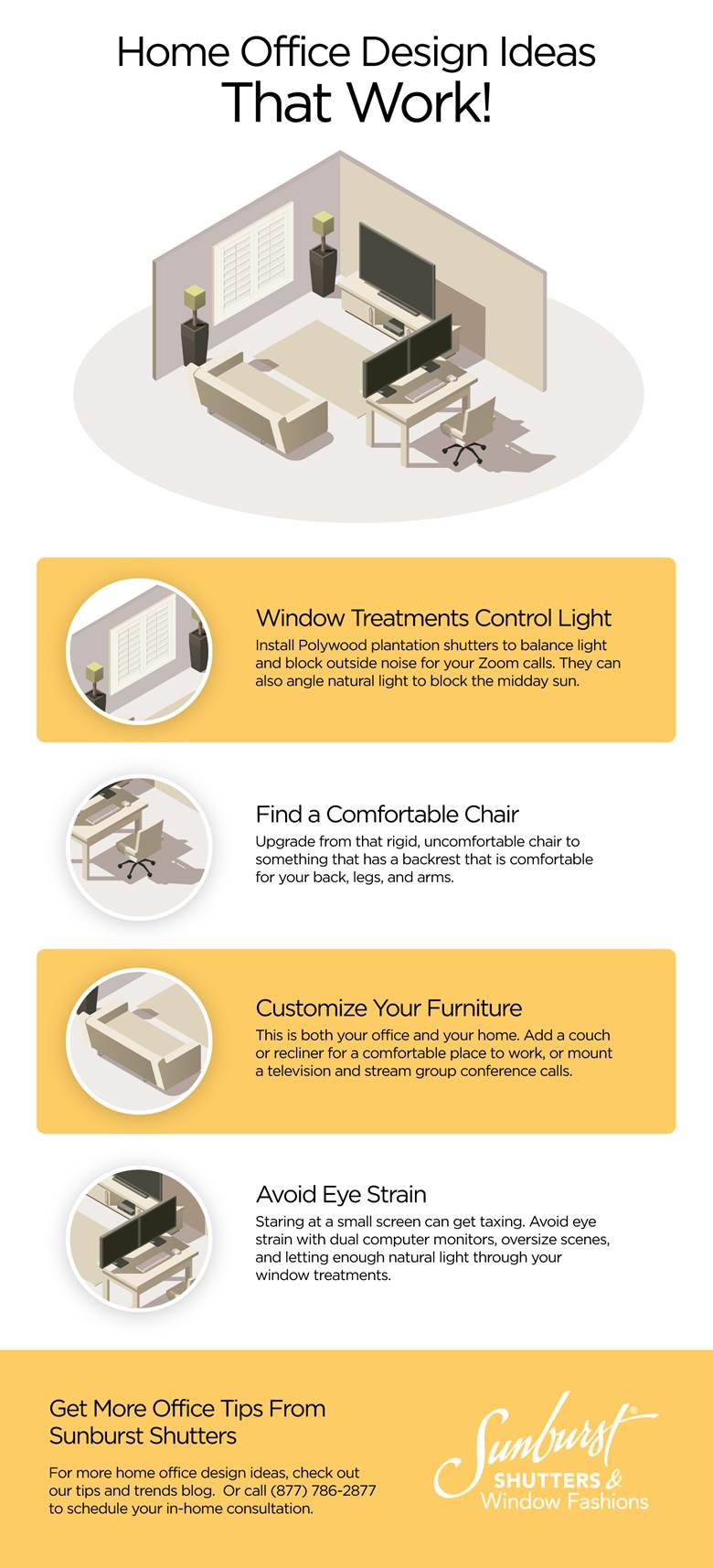 One of the advantages of work from home is that you are able to sort your space outside the traditional cubicle layout. However, sometimes settling on the best set-up takes time and a heap of trial-and-error. And sometimes it takes thinking outside the box.
Always question yourself about what the best way to work. You might need a couple computer screens instead of a lowly 15-inch screen. Maybe you want three. Or maybe you work best when using a keyboard and a few TV-sized screens hung on the wall. From standing desks to overstuffed couches -- it's how you like it. And if that doesn't work, just change it all without having to go through an Order Request Form.
Start your Home Office Project in Cleveland with Sunburst Shutters
Ready to take the first step in transforming your work area? Just call
440-561-6787
or complete the form below to schedule an in-home consultation. Our experts at Sunburst Shutters Cleveland will help you pick the window treatments that can take your work space to the next level and make work at home easier in Cleveland.