What Window Treatments To Choose For Your Cleveland Custom-built Home
If you're making selections for a custom home in Cleveland, you want to get every detail right, down to the window treatments. It might come as no surprise that plantation shutters are a leading choice in window treatments for custom homes in Cleveland. Their functionality and style blend in with interiors of all types and provide you complete command over sunlight. With these qualities you have the ability to produce a pleasant space and accentuate the enticing features of your custom home.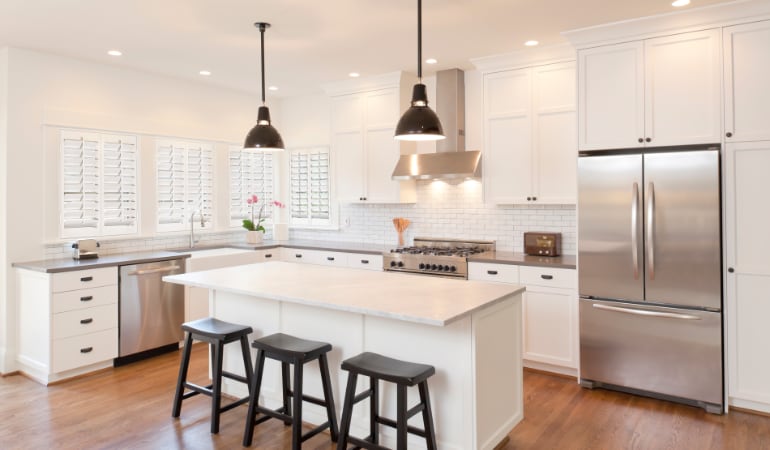 In What Ways Do Plantation Shutters Elevate a Custom Home?
If you are looking to to increase the allure of your custom home, consider window treatments that residents in Cleveland install to add to their home's style. Plantation shutters synchronize seamlessly with any design choice. They are a point of emphasis and catch the gaze of onlookers who are more accustomed to dated curtains and cheap blinds. Their practical but sophisticated design requires no extra dressing to provide a dazzling dynamic and leave a lasting impression on guests.
Plantation shutters are a smart finish for a custom-built home. Their distinct construction and versatile color choices incorporate easily with any style of home, so you can ask your builder to include them in every space and not have to worry how they will blend with your home furnishings.
Plantation shutters are custom-fitted for both standard windows and windows with specialty shapes, so you can use them on every window and save yourself the hassle of implementing numerous window treatment options. You benefit from having a task lifted from your plate during the home building process!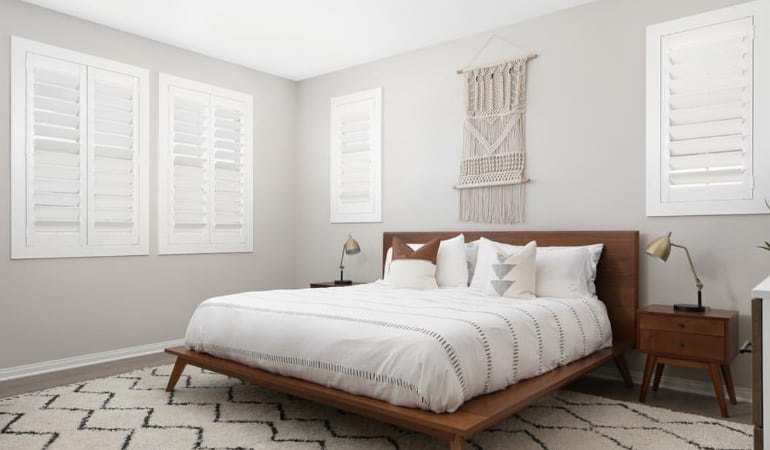 How Do Plantation Shutters Let Homeowners Direct Sunlight?
Everyone loves the appearance of a well-lit home. While you'll no doubt choose beautiful electric lights to illuminate your custom home, sunlight has special characteristics that can make a room look larger or change its overall feel.
However, sunlight is hard to predict. Over the course of a day, the level of sunshine streaming into your custom home changes, and you must change the positioning of your window treatments to direct the sunlight appropriately. When searching for window treatments for custom homes in Cleveland, homeowners prefer composite Polywood® and classic wood plantation shutters that help them manage the intensity of sunshine a space receives.
You can use the tilt rod to partially close the louvers in the daytime when there is an abundance of light to allow an area to have a softer glow and increase the opening to make things brighter when the sun is on the other side of the house. You might also open the shutter panels from the hinges for complete sunshine to generate an impression of being outdoors and fasten them again for a cozier feeling.
Adjusting shutter louvers also gives you the chance to shift the sun's rays. When you tilt the shutter louvers in either direction, you can lighten dark corners to make your space appear larger. You are able to filter excessive glare away from your guests' sightline and surfaces where reflection occurs without lowering the louvers and eliminating the light altogether. With a single touch, you can control the placement and the amount of daylight that radiates in each space for the comfort of your visitors.
Find The Best Window Treatments For Your Cleveland Custom Home
Present your custom home in the best way possible with the eye-catching style of plantation shutters by Sunburst Shutters. We install made-to-order window treatments that Cleveland homeowners love for their custom-built homes. Contact us at 440-561-6787 or complete our simple form to get started with a free in-home design consultation.