Top Window Treatments For A Home Library In Cleveland
The window treatments in your home library in Cleveland could be deemed an afterthought, but they actually offer a great deal to help you design the ideal area for relaxing with a good book. The smartest options give you the ability to manage light, privacy, and even the comfort within the room! In the event your home library window treatments aren't capable of offering the same, we recommend durable faux-wood shutters. Here's why it makes sense to change.
Choose Between An Open And Bright Or A Slightly Darker And More Secluded Home Library With Faux-wood Plantation Shutters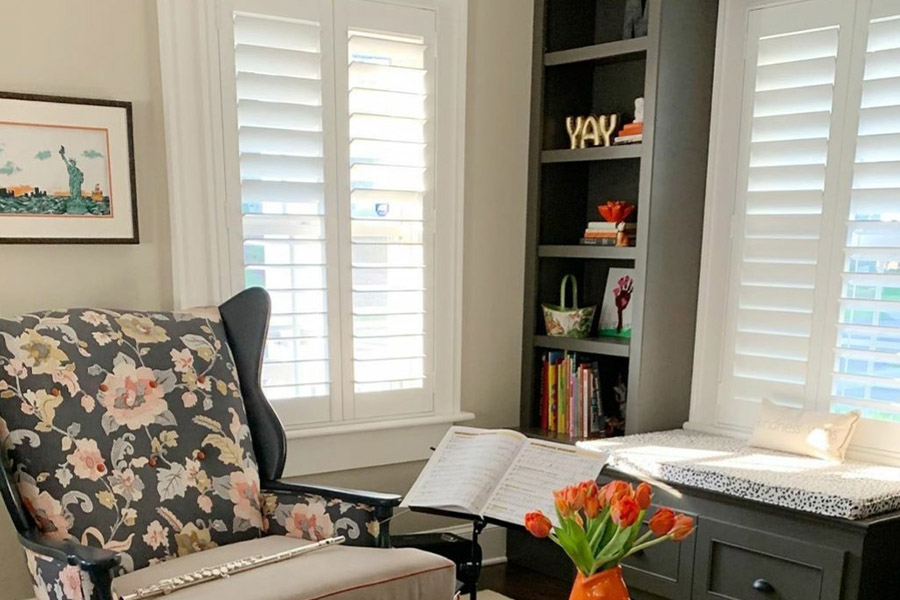 Each home library requires plenty of sunlight for enjoying a book or magazine. But sometimes an overflow of light makes your eyes strain. And what if you would like a more brooding setting for perusing a an edge-of-your-seat thriller? The ideal window treatments for home libraries in Cleveland let you easily change from full sunlight and lower light levels.
Plantation-style shutters are easy to open and close. You can pull open the panels for full sunlight when your artificial lights aren't enough for reading or if you would like to save on your utility costs. If the sun is too intense, close the panels but adjust the slats for the amount of light you want. You can even shift the slats to divert sun glare away from your paper or mobile device and achieve the best level of brightness to prevent straining your eyes. And if you would like a dimmer, more private home library, the solid faux-wood panels and louvers close tightly for near-total darkness.
Minimize Outdoor Disruptions When Using Louvered Shutters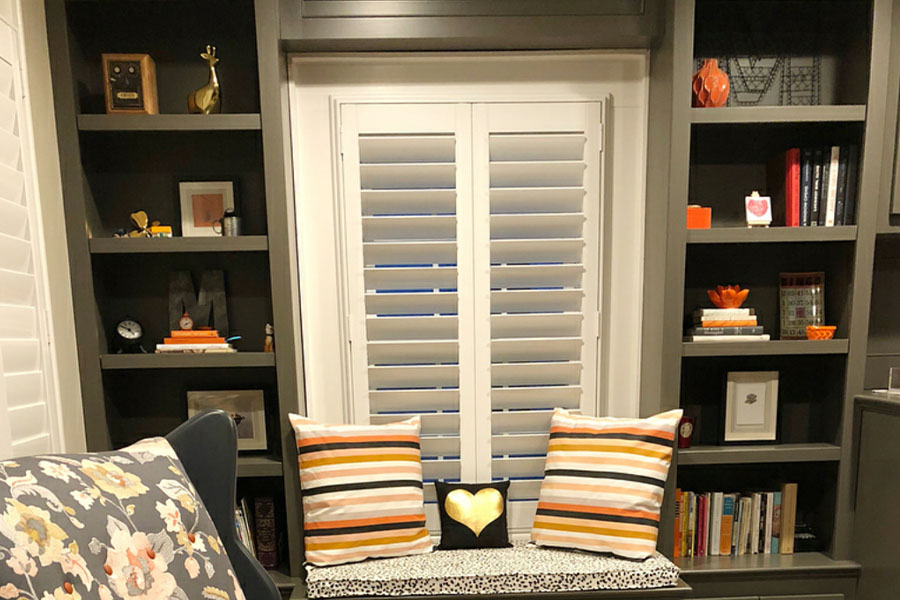 If the time comes to relax with a good book, the one thing you don't want is any commotion or distraction from beyond your walls. Faux-wood shutters are able to curb these annoyances when you want peace and solitude. All you have to do is shut the slats and hinged panels if you don't want to catch glimpses of people or Cleveland traffic in your field of vision as you attempt to get back to your story. Your sealed shutters will inhibit outsiders from glimpsing you in your secluded space too. And dissimilar to most window coverings, you can adjust your louvers to welcome in some light so you can read while preventing the view from people outside.
Solid Polywood shutters also do a stellar job of suppressing excessive exterior noise when you compare them to window shades and blinds. Did a person across the street start a lawnmower right when you had reached the big reveal in your book? Seal your shutters for a little extra peace and quiet when reading.
Halt Unwanted Drafts With Polywood's Superior Insulation Properties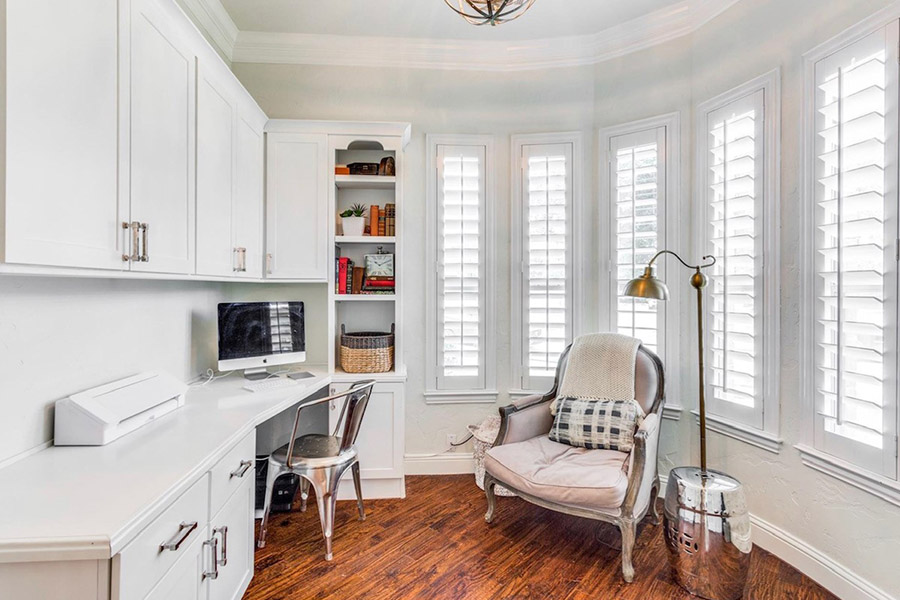 Besides sunlight and noise, your distinctive faux-wood shutters keep out drafts that might chill you while you repose in your preferred easy chair.
Polywood shutters provide a higher level of energy efficiency
than any other option. Both frigid drafts and warm sun rays cannot penetrate their manufactured wood. And their exceptional production keeps exterior air from moving past borders. These shutters are able to block up to 30 degrees of temperature conveyance from your area's windows to protect your books from sunlight and drafting while maintaining your comfort.
Let Sunburst Shutters Cleveland Show You The Top Window Treatments For Your Home Library In Cleveland
Come up with the perfect reading environment with durable, faux-wood shutters from Sunburst. We bring sample options to your home to let you see how they will enhance your interior. Once you decide to move forward, we'll craft your shutters to the specific proportions of your job. Start today by contacting us at 440-561-6787 or fill out the form below to request your no-cost on-site appointment.