Leading Living Room Window Treatments In Cleveland
A great deal of Cleveland residents use their living rooms for formal entertaining, others for casual lounging. Regardless of your lifestyle, well-crafted window products will create an area that is more comfortable and inviting. Smart choices like plantation shutters and shades add style while blocking unwanted glare and drafts.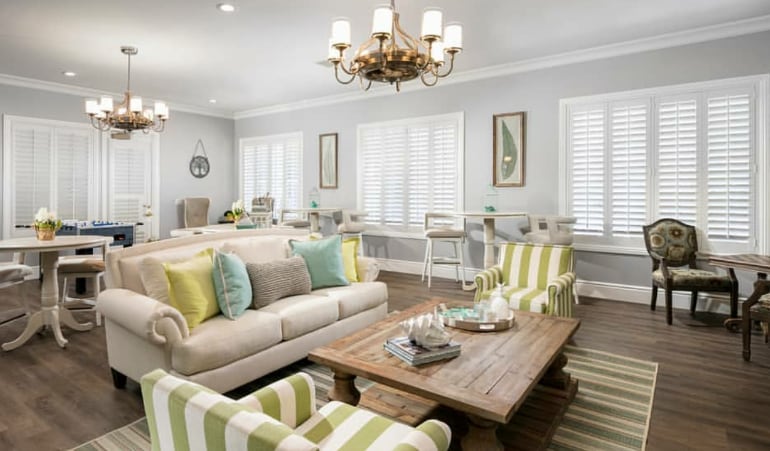 Plantation Shutters Keep Your Space Comfortable
For most Cleveland residents, the living room functions as a multifaceted space where they play games, entertain friends, and relax after a long day. Versatile plantation shutters offer a range of benefits for your living room. Both faux wood Polywood® shutters and 100% wood shutters are sturdy and easy to clean for families with children and animals but with the right style to make an impression on guests. The wide louvers look visually stunning and can be cleaned quickly with a cloth to eliminate dirt and dust before visitors arrive.
The easy-to-move louvers also give you control over sunlight in your living room. If you want something less than complete daylight, swing the shutters closed and turn the louvers to direct glare out of people's eyes or off the TV. You can also close the louvers entirely during peak sunlight hours to maintain your preferred comfort levels.
Many homes have large picture windows or multiple windows in the living room. These let in the hot sun and cold drafts. While picturesque, they can let in the sun's heat and windy drafts. They add panache but also let in heat and drafts that run up your energy bill and make you uncomfortable. When looking for the most efficient living room window treatments in Cleveland, think about the benefits of interior shutters. Polywood® products fend off the sun's heat and those cold drafts better than other window treatments to maintain a comfortable space for your family and guests.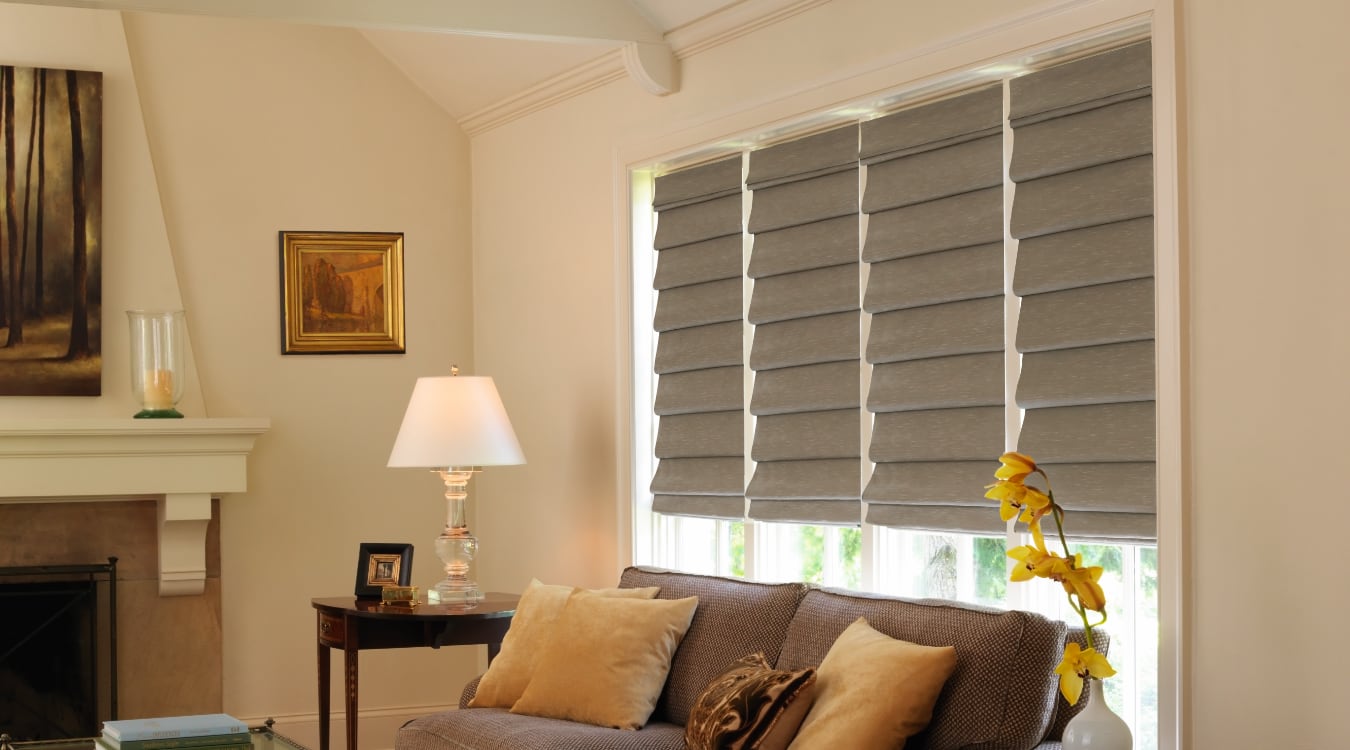 Roman Shades Deliver Function And Appeal
Depending on your design preferences, you might be interested in unique window products different from the rest of your house. With that being said, there's no reason to compromise ease of use for aesthetic appeal. You will receive a truly remarkable choice with attractive Roman shades.
When you open Roman shades, the the fabric clusters together but without requiring tie backs like traditional curtains. Alternatively, Roman shades are adjusted effortlessly with pull-cords or a pull-bar. Or get motorized Roman shades so you don't have to interrupt a conversation to adjust the shades can raise or lower with the touch of a button. You don't have to step away from your visitors to go open a shade. You can find Roman shades in an array of styles and colors to get the exact look you want for your living room.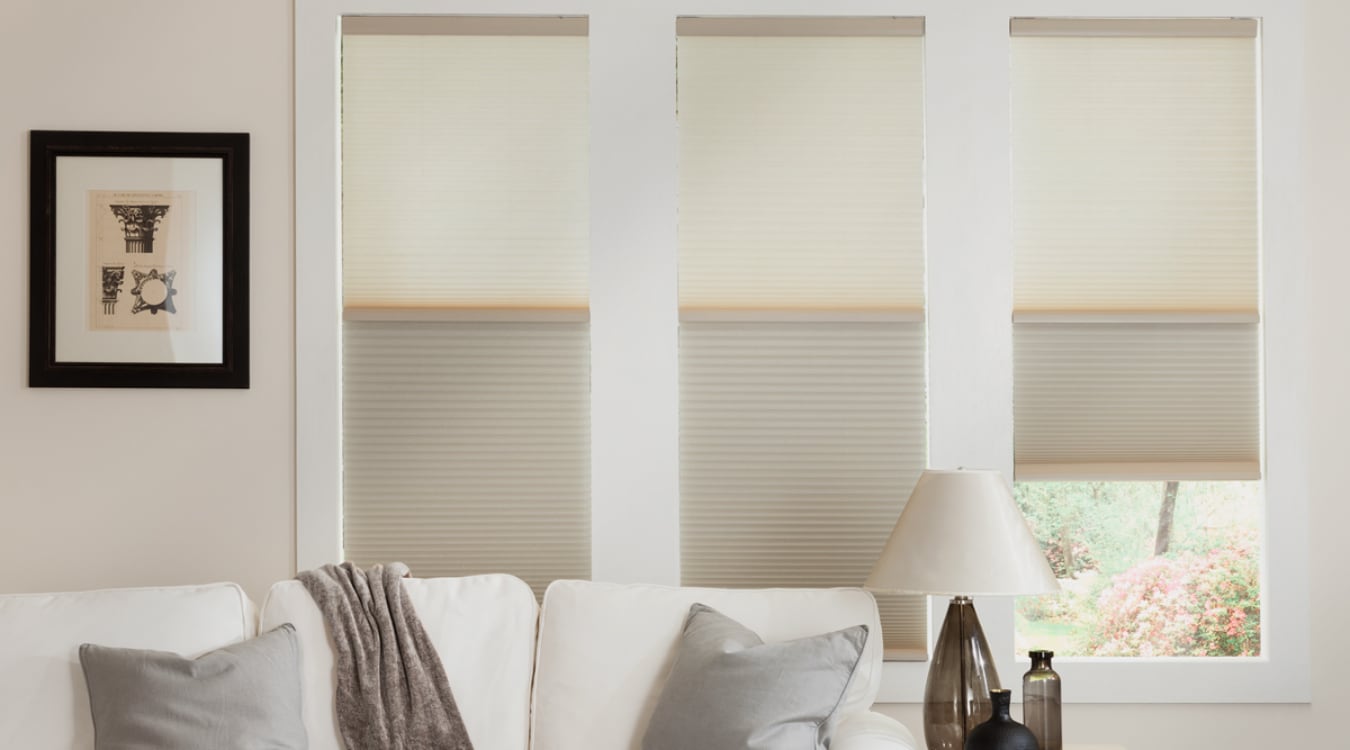 Cellular Shades Boost Your Home's Efficiency
Another solid choice for energy-efficient living room window treatments in Cleveland are cellular shades. The unique design will capture air to minimize drafts in your home. This important feature will help you stay warm when you're lounging during the winter on the living room couch and keep you cool throughout the warmer seasons when you're socializing with friends.
If you pick cellular shades, don't loose sleep about them being too boring for your decor. They are available in various sizes, colors, and textures to fit your interior decorating scheme. You can also choose between translucent and solid fabrics and various options in between to reach your preferred quantity of natural light and privacy. For all-around adaptability, check out top-down/bottom-up cellular shades that let you open them from the top for sunlight while covering the lower part of your windows for privacy.
Ready to Find The Right Living Room Window Treatments In Cleveland? Discuss With The Specialists At Sunburst Shutters Cleveland
Bring style and energy savings to your Cleveland living room with finely-crafted window treatments from Sunburst Shutters Cleveland. Our consultants will answer your questions and offer a custom plan for your living room. To request a free in-home consultation call us at 440-561-6787 or submit our contact form.