Your Top Choice In Window Treatments For Palladian Windows In Cleveland
Stylish Palladian windows bring a special touch to any Cleveland property. These sizeable windows consisting of an arched window in the middle flanked by two smaller-scale rectangular shaped windows provide an abundance of sunshine and an amazing view. However, you might be wondering how do you shield these stunning windows to adjust for privacy and light without concealing their design?
Sturdy, interior shutters are the best window treatments for Palladian windows in Cleveland. The reason is due to the fact that shutters are hand-crafted to match the specific measurements of your project. They keep the shape, give you superior coverage, and accentuate the amazing beauty of your Palladian windows.
Louvered Shutters Accommodate The Size And Shape Of Your Palladian Window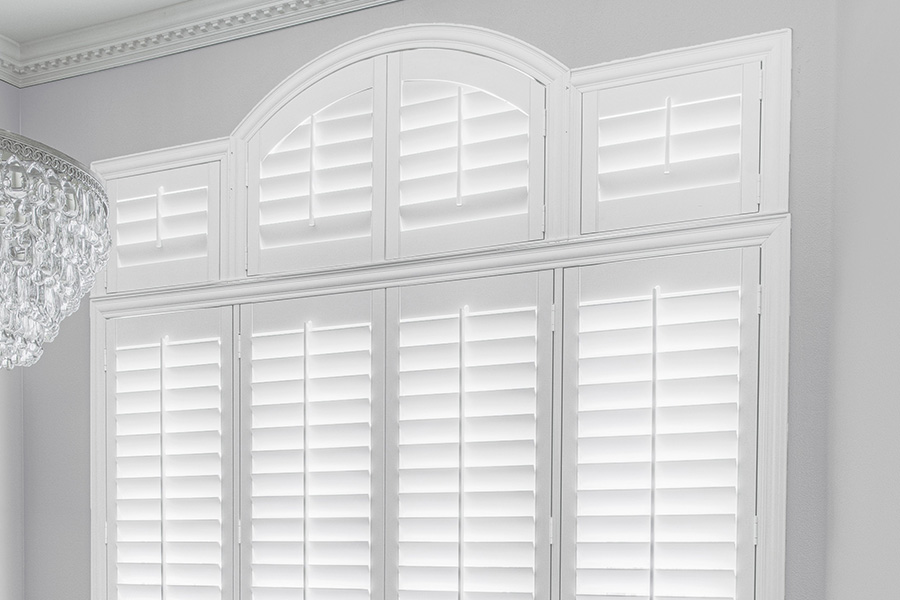 In the event your home has such a distinctive element as a Palladian window, you would never wish to cover its shape. While traditional products like curtains give you a bit of light and privacy control, these one-size-fits-all window treatments will either cover your arched center window or leave the arch uncovered and permit light into your room.
Hand-crafted interior shutters solve this problem. Both natural wood and faux-wood shutters are made to fit your window's exact size and shape. A solid enclosure is fabricated around the opening, and panels of slats are cut to attach in the framework. When you have a window with an arch like a Palladian window, you might decide to have the panels on each side extend to the arch's top and have the same curved shape as the surrounding frame, or you could have the arch fitted separately and inset with a sunburst shutter. Either way, the louvers will be adjustable so you enjoy total control over the levels of privacy and light.
Plantation Shutters Help You Control Privacy And Sunlight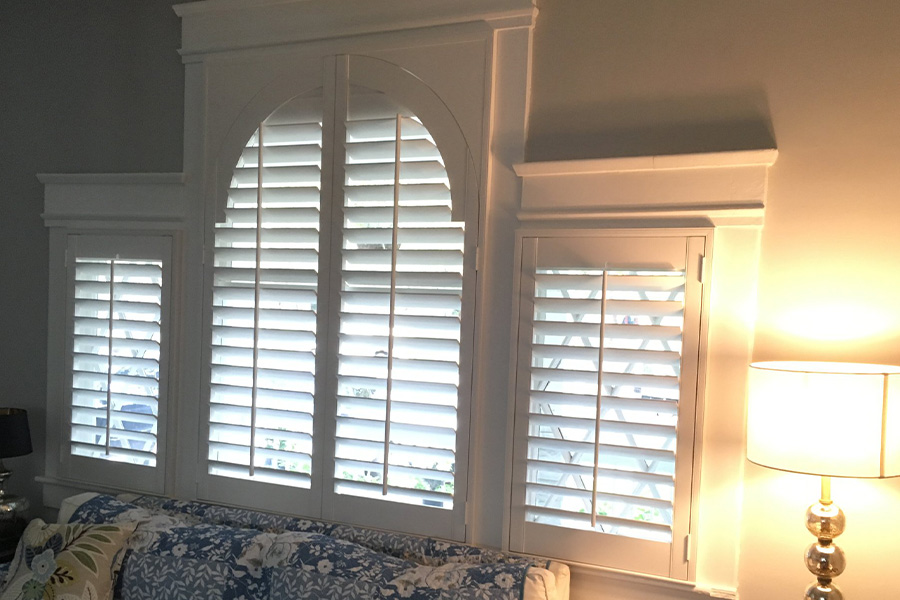 With such an exact fit, plantation shutters allow you to enjoy complete mastery over how much light and privacy you experience through your Palladium windows. Skillfully installed interior shutters will avoid gaps between your window opening and the frame of the shutter, and by closing the louvers, you prevent sun glare with the added bonus of privacy. This superior craftsmanship means that your shutters are a highly efficient option.
Polywood shutters,
particularly, insulate windows with their patented insulation qualities.
Naturally, sometimes you wish to see the outside world through your Palladian window and fill the room with sunshine. In that case, adjust the louvers until you succeed in getting the view or illumination you desire. You can move the louvers to divert glare from anything that reflects light or out of your eyes as well.
Louvered Shutters Accentuate The Appeal Of Your Palladian Window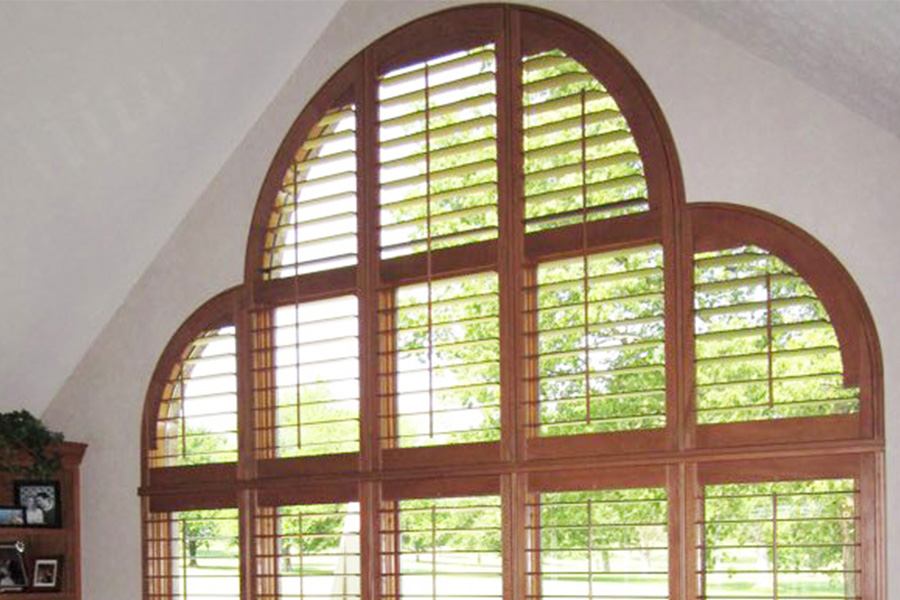 A beautiful window should have equally enticing window treatments. Interior shutters are a fantastic option as window treatments on Palladian windows in Cleveland. They add breathtaking design elements and appeal to any area and are a definite upgrade over basic fabric window treatments or other alternatives. You also have the opportunity to design the precise feel you want with your preferred choice of material, color, and frame style. Choose modern and stylish with white Polywood shutters and a sleek frame or time-honored with
natural wood Ovation shutters
with a luxurious wood stain and ornate frame. When you have a range of options, it's never a challenge to fabricate interior shutters that match your home's architectural features.
Speak With The Specialists At Sunburst About Window Treatments For Palladian Windows In Cleveland
At Sunburst Shutters Cleveland, we go the extra mile to ensure you locate the ideal window treatment for every room in your house. We will direct you through our vast collection of superior window options and precisely install your treatments so they operate flawlessly. Transform your home with a complimentary in-home meeting by calling 440-561-6787 or by filling out the following form.