Five Suggestions To Create An Amazing Media Room In Cleveland
Modern home entertainment technology makes it easier than ever before to experience gaming, movies, and your favorite TV shows as you kick back in your own home. This is the reason why families in Cleveland continue to create home media rooms. The question is: What should you have to produce an incredible home media room? From ideal window treatments to soundproofing, explore these five suggestions for creating a media room in Cleveland that everyone will appreciate.
#1 Control Exterior Light With Louvered Shutters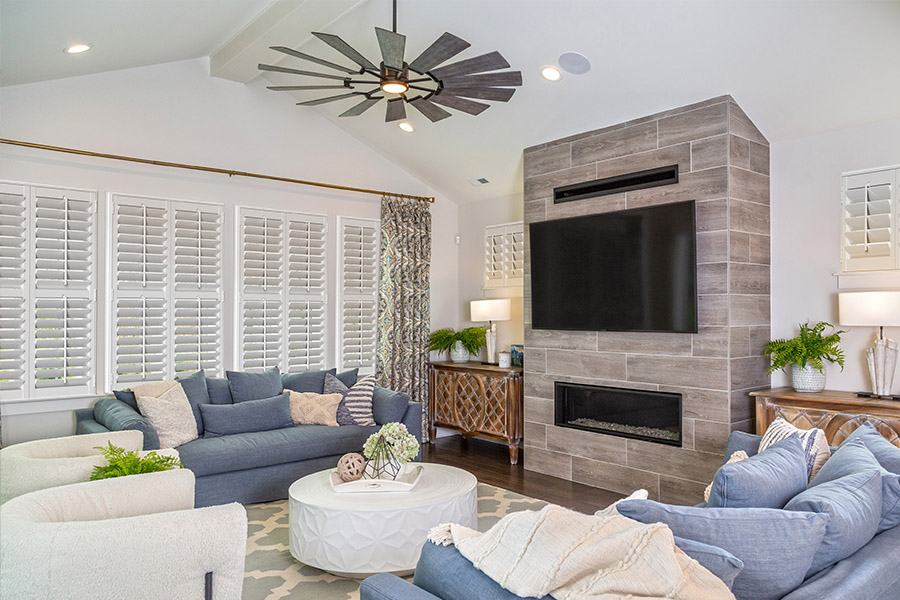 Few things can spoil your favorite show like the sun's rays on your TV. Adjustable interior lights are beneficial, but what about exterior light? Install
interior shutters for window treatments
in your media room in Cleveland for optimal light control. Louvered shutters feature a solid outer frame that surrounds your window to inhibit exterior light. They also consist of panels on hinges with adjustable louvers that close tightly to give you near-total darkness. You might even manipulate the slats up or down to shift light away from screens or your face without having your space appear to be an underground cavern.
When you use Polywood® shutters, you'll get a higher degree of energy conservation as well. These composite shutters halt heat from the sun and airflow to allow your media room to maintain a pleasant temp. They can prevent up to 30 degrees of heat transference, lowering your utility expenses.
#2 Improve Your Media Room's Acoustics With Some Minor Renovations
As soon as you conquer the lighting issue in your Cleveland media room, focus on the acoustics. Drywall is sufficient for walls in media rooms, but basement concrete devastates sound quality. The most straightforward method to minimize reverberation in your lower ground media room is by putting up acoustic paneling. In the event you have to perfect the sound quality in your media room, look for easy-to-install sound dampening or deadening products. You can then proceed with window treatments, like shutters, to inhibit exterior noise.
#3 Choose The Appropriate Devices
The appropriate electronics will deliver excellent audio as well. Start with your surround sound setup. Many residents prefer wireless systems because you don't have to worry about concealing wires.
You'll also want an amazing TV. Popular LED TVs offer excellent brightness, but 4k units often have better contrast and viewing angles. Or get a projector-screen combo for that larger-than-life display in your media room. No matter what television you choose, install it high on the wall for improved viewing angles.
#4 Choose Cozy Furniture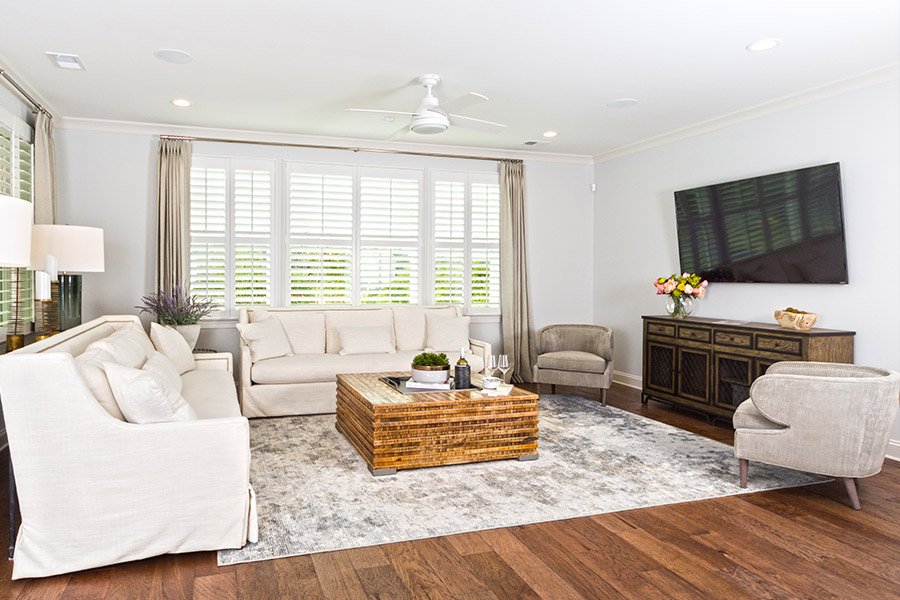 You won't be able to take pleasure in the big game without a cozy seating option. If you want a theater-style experience, try to find specialized seats with reclining backs and incorporated drink holders. For gamers, get some well-designed gaming chairs. A spacious sectional is a good idea as well. Also, be sure to remember a few plush throw blankets and cushy pillows to hunker down for those movie marathons.
#5 Redecorate With Your Favorite Theme
Design in whatever fashion you want when creating a media room in Cleveland. Are you a fan of a particular sports team? Would you like to feel like you're inside an actual theater? Oversized movie posters, a vintage popcorn maker, and vibrant colors should promote your media room's purpose.
If you're looking for a more toned down appearance, focus on your choice of color palette. Warm colors with real wood finishes and matching Ovation® shutters will have your media room feeling snug. You could also go open and inviting with soft neutral hues and Polywood shutters.
Talk To Sunburst About Window Treatments For Your Media Room In Cleveland
The specialists at Sunburst Shutters Cleveland can help you find window treatments you love for your media room. At your no-cost in-home meeting, we present how samples look in your room before you make your ultimate choice. Request yours today by reaching out to 440-561-6787 or by submitting the form on this page.