Cleveland Bay Windows Need Spectacular Window Treatments
Specialty window types are usually some of the most visually striking hallmarks of houses in Cleveland - and one of the most attention-drawing examples of those specialty windows are bay windows. Whether from the interior or exterior, bay windows grant a look of comfort and fashion all at the same time - granted that they're partnered with a great window treatment.
But how does a homeowner decide which window covering to select? Just like other specialty window types, bay windows have individual features to bear in mind. Sunburst Shutters Cleveland will walk you through the checklist for bay window treatments, and then offer our suggestions for the best choices for your Cleveland bay windows.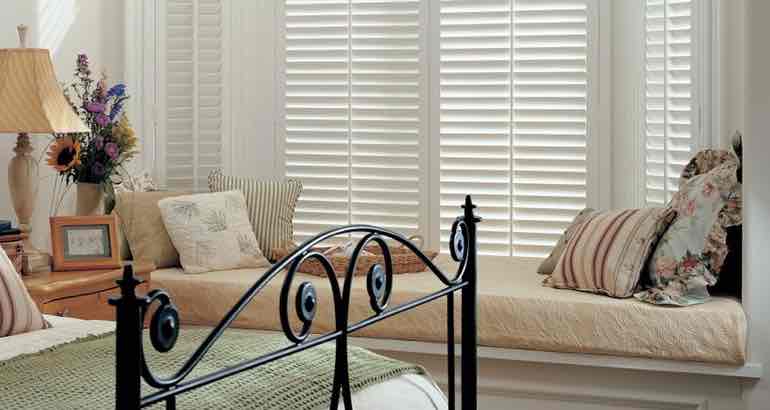 Priorities For Bay Window Treatments
Complement your bay window - A badly-chosen, boring window covering can mask the beauty of a bay window. Opt for a treatment that enhances your bay window's unique shape.

Control over temperature and light levels - Bay windows usually let in a good amount of light and heat from outdoors. You need a window treatment that will keep your space comfy and allows for climate control.

Visibility - Just as a window treatment needs to enhance your bay window's shape, it should also let you control how well you can see out your window, and how well people outside can see inside.
The Least Recommended For Bay Window Treatments
Metal blinds - Blinds usually hinder the glamour of uniquely-shaped windows, making them look rather generic or cheap. They also don't deliver in controlling light levels as well as temperature.

Drapes - Like blinds, drapes bring down the visual appeal of bay windows by covering up their unique geometry, which is one of their main features. Control over brightness can also be a zero sum game when you go with drapes.

Nothing - A few homeowners think they should keep their bay window uncovered. The single upside to no window treatment is increased visibility, but doing so reduces your control over light and heat, and will let people outside your window get a clear view inside the home at all hours.
Recommendations For Cleveland Bay Windows
Bay Window Cellular Shades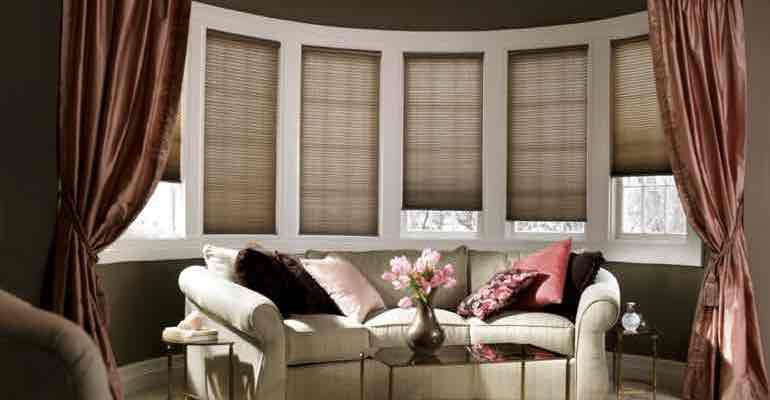 Fashionable, wallet-friendly, and easy to operate, cellular shades are perfectly suited to bay windows. The reason why we recommend them for bay windows is the amount of freedom cellular shades offer you. These shades can be purchased in a range of cell sizes, all the way from 7/16 in. to 3/4 in. and come with a top-down, bottom-up system that allows you to lower the shade from the top or raise it from the bottom, meaning you can get fantastic visibility while maintaining control of light levels.
Our cellular shades are also available in a wide range of transparencies, from solid to sheer, so a lack of privacy is not a concern. Also, unlike different kinds of shades, cellular shades don't bunch up at the sides or along the top of your window when opened, because they collapse so effectively. That way you can keep the classy look of your bay windows when the shades aren't in use.
Bay Window Plantation Shutters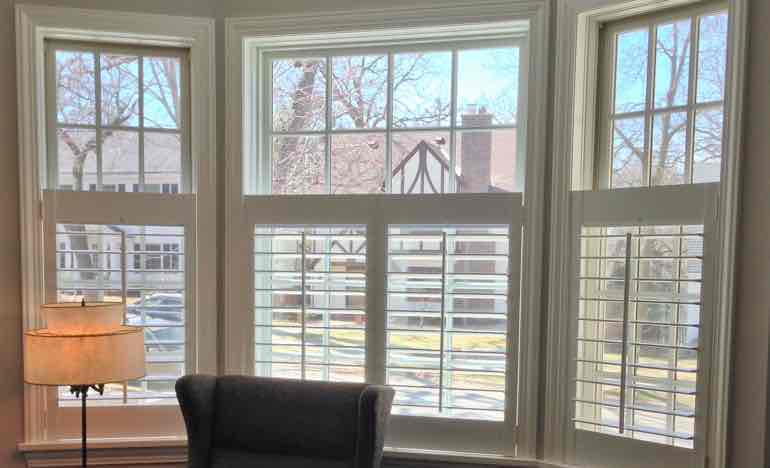 As with cellular shades, plantation shutters can give Cleveland homeowners the chance to show off their bay windows' geometry while reaping the benefits of a customized window treatment. Plantation shutters improve on cellular shades however, by offering even better control of light and visibility due to their adjustable louvers. And because they're custom-built for your windows, you can enjoy even greater freedom in how you add to their looks with full-length or half-length shutters.
Due to the fact that bay windows are usually some of the largest windows in your home, Polywood® plantation shutters' insulation is a massive draw. Polywood shutters can restrict up to 30 degrees of temperature flow in your house when used correctly, which means that a cozy home is a simple tilt away.
For that timeless wood plantation shutter look, Sunburst Ovation® shutters surpass all other wood shutters, as they are the only five star rated wood shutter currently available. Ovation shutters are the perfect window treatment to complement the wood frame around your bay windows.
Treat Your Bay Windows Right, Cleveland!
You're doing your home a disservice if you aren't getting the most out of your bay windows. Let Sunburst Shutters Cleveland help your windows soar with our professional experience. Get in touch with the Sunburst Shutters Cleveland team today by calling
440-561-6787
to schedule your
free in-home
window treatment
consultation
. We'll work with your schedule and have product samples brought right to your house!